Happy Wednesday to all, it's Brianna from
Happy Scrapper
!! I am so excited to share my twine-tastic project with you. Anyone who know me, knows I love cutsie, whimsical projects. I hope you will see that, by the card I'm about to share with you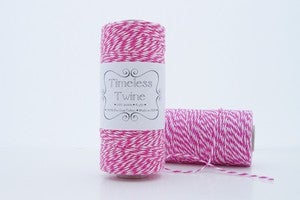 I decided to use, one of what seems to be my go to twines,
Raspberry Pink
to accent my card. I added a bow to my little girl toast and then outlined the word friends, using my glossy accents. This stuff works wonders when trying to make shapes or outline anything because it holds really well and dry's clear. I am sure you are wondering where these little cuties came from!? I got them from the "Stuck on You" set by
Lettering Delights.
I decided to hide their faces, so I could use some of those oh so sweet Peachy Keen face stamps!! I finished my card up by adding a flower embellishment that I got from
my local scrapbook store.
Also don't forget you still have time to join in on the fun challenge we have going on, right here on the
Timeless Twine blog
.
Deadline for challenge entries will be May 31, 2013 11:59pm (EST)
Hope you will all find time to join in on the fun!
Have a fantastic day everyone!!
Brianna