Hello Twine-tastic Friends!
Melissa
here with a CAS (clean and simple) twine banner!
I love banners and pennants and I always seem drawn to the stamps and die cuts that include those shapes. I thought it would be fun to make my own and let the twine shine on the card!
With a heavy embellishment like this banner, I thought it would be best to keep the rest of the card CAS.
So easy to do--cut a banner piece, run it through a Xyron (or cover it in adhesive, wet or dry, but for this I wanted dry) and start adding the twine! Make sure you have some seriously good fabric scissor to trim the edges too!
A quick iphone pic:
I love this color, Firecracker!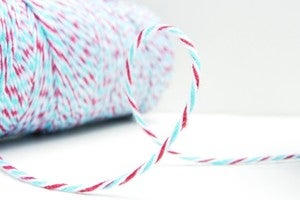 We have a fun monthly
challenge
going on right now! We'd love for you to play with us!
Thanks for stopping by! Have a twine-tastic day!
Melissa