Hey All!! It's
Kristy
here sharing a St. Patty's day card with all of you. I cannot believe how fast this month has flown by! It's soon to be March, but the good thing about that... spring is on the way. YAY!! Personally, I'm SO over winter and ready for some warmer temps!! I'd give to be on a warm sunny beach somewhere right about now!
Ok, enough day dreaming about warm beaches... let's take a peek at my card.
St. Patty's is fast approaching, so I thought this would be the perfect time to get a card done for it. But, at the same time, this card could be used for that special person in your life as well. It screams St. Patty's day, but it could be used in various ways to tell someone how lucky you are to have them.
For this I used the
Olive Green Timeless Twine
, a white gel pen for doodling and the SVG's are from Scraptastical Kreations. I wrapped the twine around the scalloped square base (the white), and then applied the top base or the shamrock on top. It gives it a great touch and lots of dimension as well. Add a bit of doodling to give it that extra kick and you're good to go.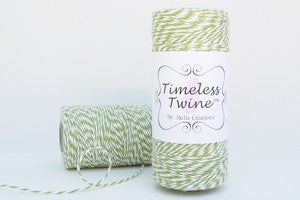 Hope you all have a Twine-tastic day!!

Kristy